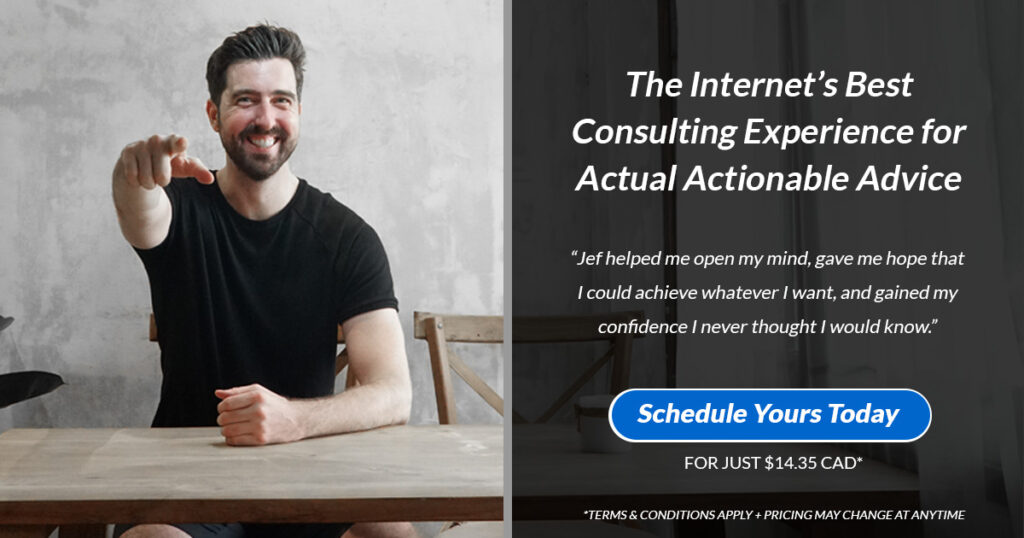 The internet's best consulting experience is brought to you by ex-Big Mac Maker to Creative Entrepreneur — Jef van de Graaf
Hi, I'm Jef van de Graaf, and I've made the decision to be a better human being in 2022 — and — there's no greater way to do that than by helping other people. But, how the heck am I supposed to people if I don't know what their problem is…?
Well, if you are struggling with:
Building your online business;
Increasing your website's traffic and conversions;
Writing your web pages in a way that gets people excited to buy;
Converting your creativity into a thriving, high-earning freelance career;
Learning how to actually live the digital nomad dream; or,
Knowing which direction you're supposed to go in life…
I highly encourage you to schedule an hour to help you get accurately aligned with your desired goals in business, life, or both.
This consultation is focused entirely on you and offers an hour of fresh perspective from an outsider's point of view — an outsider with a particular set of skills to help sort the ideas in your head.
F.Y.I., I'm also really damn good at:
Genuinely listening to your current situation
Honestly responding with thoughtful insights
Discreetly addressing sensitive topics or revelations
Actively brainstorming new yet actionable solutions
Effectively defining the next steps for a prosperous future
Book an hour for the best consulting experience — it's only $14.35; that's exactly Canada's minimum wage!
Who is this consultation for…?
It's 100% for you, and I'm dead serious about that.
But if that's not convincing enough, I'll share with you 3 distinct types of people who would greatly benefit from the internet's best consulting experience:
1. Aspiring business owners who are struggling to generate sales from their website.
I've spent the past 5 years of my professional career as a UX copywriter,

writing effective web copy

for many great B2B and SaaS companines.
I've also helped a multi-million Euro per year ecommerce from the Netherlands expand their business operations and online sales in the United Kingdom.
I've also

founded a WebOps agency

dedicated entirely to

helping business owners improve revenue growth

from their website. So, I've got a handful of ideas and strategies to help you out.
2. Confused freelancers who are struggling to attract quality clients and get properly paid.
I've lived in Japan for two years and

grew an English teaching service into a 5-figure MRR within 8-months

, without knowing any Japanese, and only working 40-hours every month. (I was also offered $50,000 USD to create a real school, but turned it down to continue my nomadic dream.)
I've also spent

1000s of hours studying

websites, copywriting strategies, and marketing tactics that

converted into a career I could take with me anywhere

I traveled in South East Asia.
I've

negotiated contracts worth $15,000 USD

and demanded to get paid in full — I strongly believe in the power of positioning, and knowing how to say no correctly will forever be your greatest asset.
3. Post-graduates, drop-outs, and other human beings without a clue what to do with their life and struggling to find a meaningful direction.
I've worked hard to get the things I want in life, but I never really knew where I was going. Luckily, there have always been

key people at critical times

who've helped me get aligned to where I'm supposed to be.
I've also battled with depression and

shamelessly sought help from those who were best at helping others

.
I've also learned that

not everyone knows people with the ability to genuinely listen

— often, people want to share a relevant experience of their own to satisfy their Ego's urge to be noticed, right?
Ultimately, this consulting experience is a simple way for you to get a fresh look at your current situation — from one human being experiencing the world to another; without judgment, parental pressure, or the false affirmations from in groupthink.
What can I expect from this so-called 'best' consulting experience?
That's the smartest question to ask because every financial and personal investment deserves a measurable return — even if it's only $14.35 per hour.
Here's exactly how the 1-hour will pass by, with possible deviations in scheduling due to epiphanies, enlightening stories, breakthrough moments, and so on:
Pre-consultation — When you fill out the consultation booking form, you'll be required to choose what you want your hour to focus on. Then, we'll proceed like this:
Initial 5 to 10 minutes — Just a couple of humans getting to know each other and define your goals for business, life, or both; and then…
Next 15 to 20 minutes — We'll move toward the core topic you choose to focus on; I won't say much but instead use questions to explore the reality of your situation; and then…
Next 10 to 20 minutes — We'll brainstorm new ideas, strategies, and behaviors that are relevant, pragmatic, and actionable to help you pursue your goals; and then…
Finally 5 to 10 minutes — We'll summarize the key talking points, reiterate the actionable steps you agree to take, and perform a virtual high-five before returning to our fabulous lives.
Post-consultation — You'll receive a follow-up email exactly 30-days after your consultation; however, you're always welcome to book another consultation if you feel weekly or bi-weekly calls are what you need to stay focused, accountable, and on target.
I think that's everything. If you have any questions — write me an email.
Why is the price only $14.35?
Before you go thinking, "Hmm… this guy values his consulting at $14.35 per hour, a cheap pricing must mean cheap consulting."
According to consulting.com:

If you ask for $1,000 per hour and find someone willing to pay that, your service is "worth" $1,000 per hour.

If you ask for $10 per hour and find someone willing to pay that, your service is "worth" $10 per hour.
If you want the truth — my goal is to earn $100,000 as a consultant before I turn 40-years old.
As I write this sales page, I'm at the dawn of my 33rd year of life.
Plus, I'm only offering to consult at $14.35 an hour — the minimum wage in Ontario, Canada — for the first 40 hours of this consulting journey.
That's 40 hours at $14.35 or $574 in consulting revenue. (Level 1)
I imagine by the time I complete my first 40 hours, it'll be early 2022. By then, Ontario's minimum wage will be up $0.65 to a total of $15.00.
So, I'll be increasing my rates after every round of 40 hours is completed until I reach $150 per hour.
Here's a breakdown of what that equates to:
$30 for the next 40 hours or $1,200 in consulting revenue. (Level 2)
$45 for the next 40 hours or $1,800 in consulting revenue.
$60 for the next 40 hours or $2,400 in consulting revenue.
$75 for the next 40 hours or $3,000 in consulting revenue.
$90 for the next 40 hours or $3,600 in consulting revenue.
$105 for the next 40 hours or $4,200 in consulting revenue.
$120 for the next 40 hours or $4,800 in consulting revenue.
$135 for the next 40 hours or $5,400 in consulting revenue. (Level 10)
As you can see, putting in my hours — 400 of them, to be exact — will provide me with $26,974 or allow me to achieve 25% of my goal. By the time I start charging $150 per hour, I only need 500 more consulting hours to reach $100,000.
But, this isn't just about the money.
I've seen the dark side of the consulting world. There's a lot of shit in the form of courses and gurus that use scarcity and other unethical manipulation tactics to get people to pay money.
Some people go into debt, jeopardize their financial future, rack up debt, and more — just to take a course or talk with a consulting for what — an expensive fucking pep talk?
I firmly believe that time is a precious commodity, not to be wasted. And I also believe creativity is our greatest gift to be used as a force for good that adds value, delivers purpose, and makes meaningful connections with people.
So, if you want to get a powerful pep talk while it's still fucking 'cheap' or wait until later when it's reasonably priced and a reflection of my usual consulting fees for clients — click here to book your consultation, today!
Can I get a refund if I'm unsatisfied?
Unfortunately, no.
As much as this claims to be the internet's best consulting experience, I have a strict no-refund policy.
Especially if you no-show to your scheduled appointment.
No show = no refund.
And, I expect — at a minimum — 24-hour notice to reschedule.
No 24-hour notice to reschedule = no refund.
I'm offering my time for rates that will make the people over at consulting.com tempted to hire an assassin on the black market to take me out of the game.
And, I hope you'll respect my time and give the same courtesy I'm giving you as I dedicate an hour of my life to you.
I genuinely want to help people, and I know my experiences and talents can bring a lot of light, direction, perspective, and clarity for those who truly need it.
So, in the event that you:
No show to your appointment; or,
Not give me 24 hours notice
Cancel your appointment
I'm going to donate your money to a charity or philanthropic cause of my choice. Somebody deserves to benefit from the money you paid — and — if it's not going to be you, I refuse to let it be me.
Plus, I don't want to carry the guilt of feeling like a thief, so I'd rather contribute it to a good cause and wash the money clean.
Wait, are you even qualified to consult?
I don't know, but you're invited to let me know at the end of your 1-hour consultation.
Plus, I kinda built my brain to do this consulting stuff — see:
My educational degrees
University of Waterloo, Bachelors of Science | Honours Biomedical Sciences — Biology Minor, Psychology Minor (13 June 2012)
University of Waterloo, Dean's Honours List (Fall Term, 2010)
University of Manitoba, Applied Counselling (12 June 2014)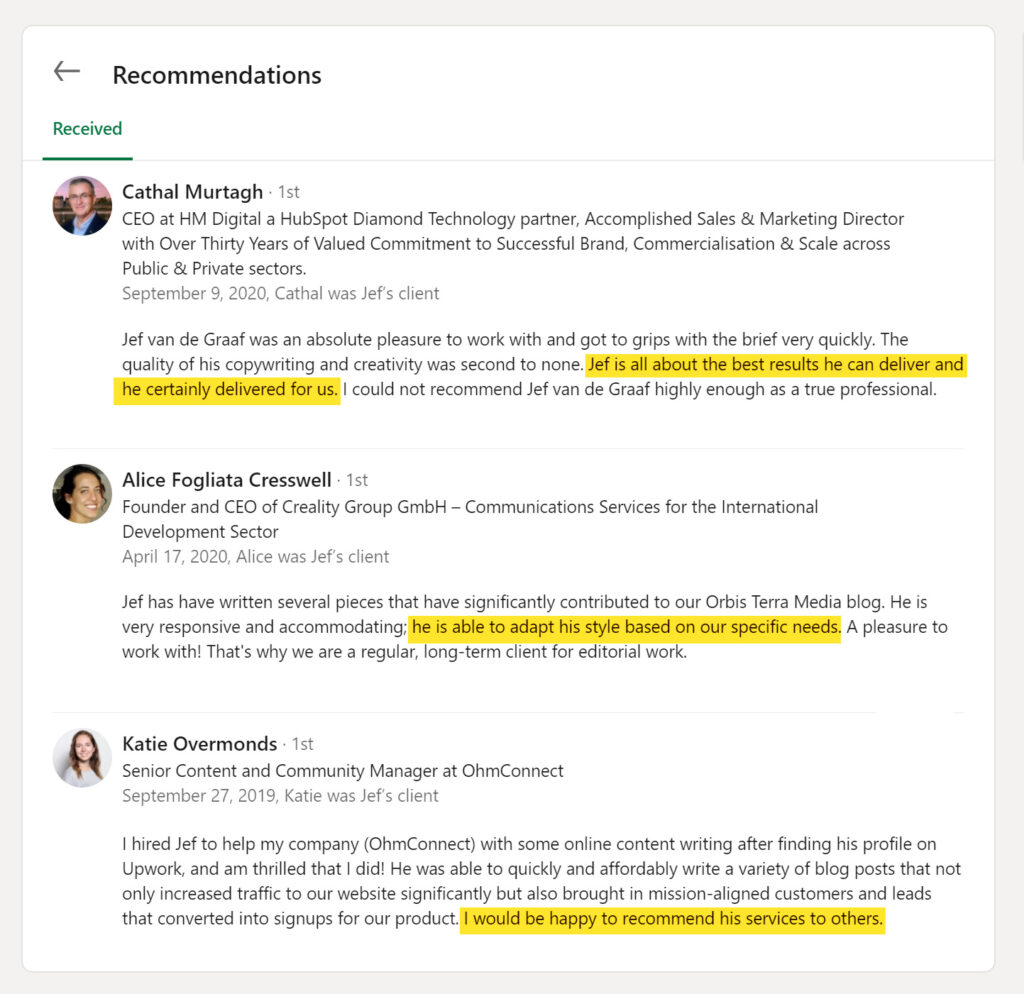 My testimonials from clients on Upwork: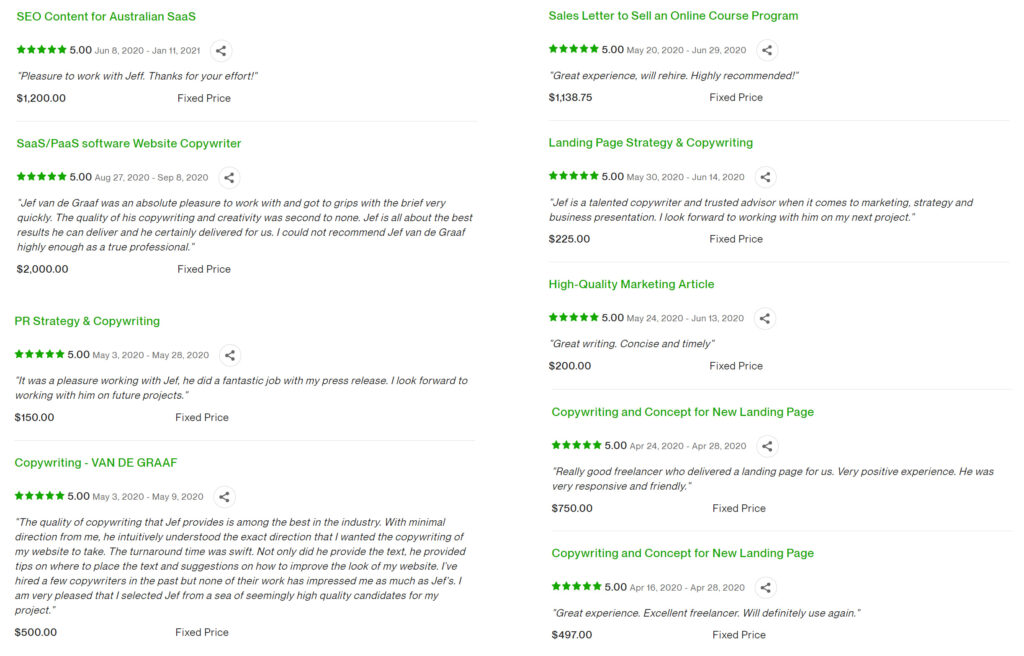 Misc. feedback from clients via email: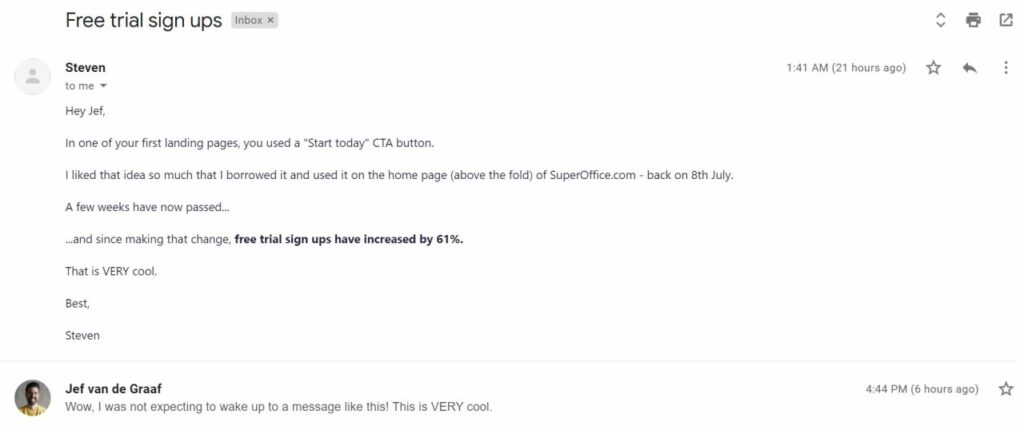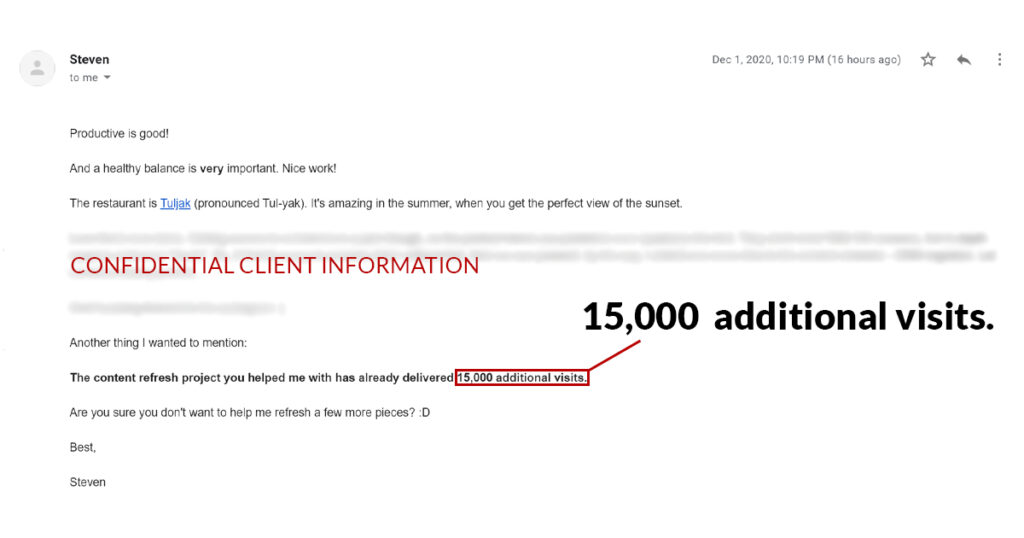 Last but not least, feedback for the internet's best consulting experience:
Oops, that's embarrassing — there's no feedback, yet.
And here's why: I just launched this landing page and I'm just getting started.
So, I advise you to jump on a call now while the price is only $14.35.
Because this price goes up on 1 January 2022 to $15.
Then, it'll increase $15 after every 40 hours of consulting and capped at $150 until I've earned $100,000.
If my openness about income and earnings makes you uncomfortable or triggers the "what a fucking scammer" within you — I think you have a bad relationship with money.
Let's change that!
Click the beautiful blue button below to…
It'll be the best consulting experience of your life — if not, your money will be donated to charity or a philanthropic cause!