Hump Me Dump Me was inspired and co-written by my incredible fans on TikTok. Each week we hang out and brainstorm ideas to create a new story on my typewriter. Come join us for the next Storytime on TikTok Live.
---
co-written by
rosita.starlight, satoshi.stw, marcellabunga, adismasbani, augylee, anakdelapanempat, dhonindah, and jefthecrazycanadian
---
style:
Tragic/Weird
characters:
rosita.starlight as Rose
Donald Trump as D. Hump
jefthecrazycanadian as Jackeff
theme:
Titanic ripoff
---
Press play to listen and read!
---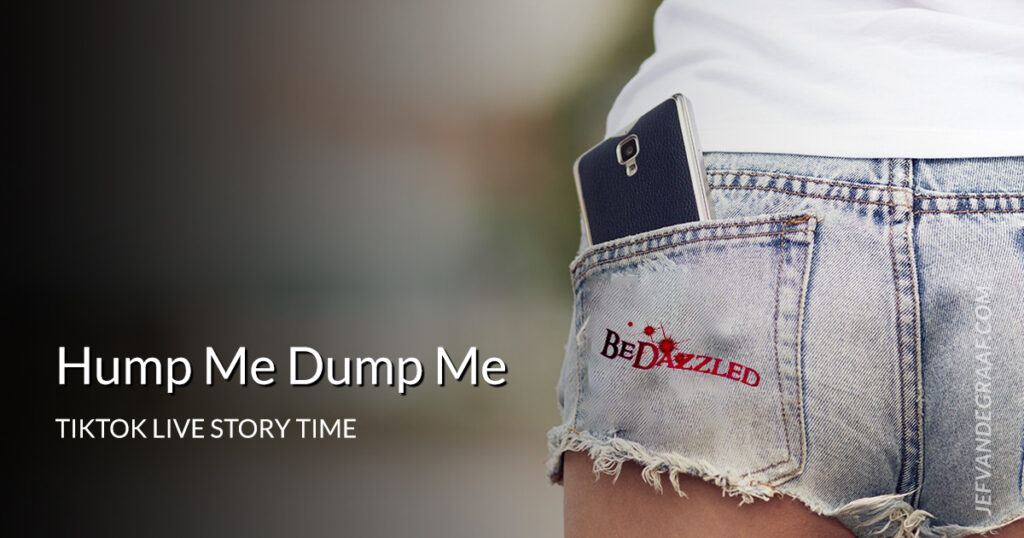 Hump Me Dump Me
It was a dark and gloomy day at the height of typhoon season. Rose, daughter of tycoon billionaire, D. Hump, was waiting for a flight from Manilla to New York City. They waited for hours with delay after delay, but eventually, their flight was canceled due to the incoming typhoon named, Karen.
Rose became furious and demanded a refund while her daddy, D. Hump, tried to calm her down. Another hour passed with Rose and her daddy getting more furious and impatient. "Wait daddy," Rose says, "you're super fucking rich… why don't you just go and buy us a new plane."
Rose and D. Hump grab their bags and sneak into the airplane hangar bay where they meet Jackeff.
Jackeff is a grease monkey and mature pilot with long stallion hair, six-pack abs, and a pair of tight jean shorts with the phrase "bedazzled" embroidered on the left ass pocket.
"Hey, I'll give you a million pesos to fly that thing to New York City," says D. Hump, "but we have to leave right now."
Jackeff looks at Rose, he's immediately struck by her heavenly starlight and says, "I will do anything for you."
Rose and D. Hump quickly board the plane while Jackeff puts their bags in the undercarriage compartment. As they fly 50,000 feet into the air they get struck by a swarm of Angry Birds (not a sponsor) causing the windshield to shatter and their left-wing engine to catch on fire.
D. Hump panics and spontaneously dies from a heart attack. In that same moment, Rose and Jackeff make eye contact and realize that these are their final moments alive. As they plummet to the ground at 327 km/h they decide to throw D. Hump's body out the emergency door right before the crash.
Rose and Jackeff jump thereafter and bounce gently off D. Hump's belly — fattened by years of jelly-filled donuts, Hype Abis Indomie (not a sponsor), and his daily addiction to pizza-flavored Mexican food.
— THE END OR IS IT?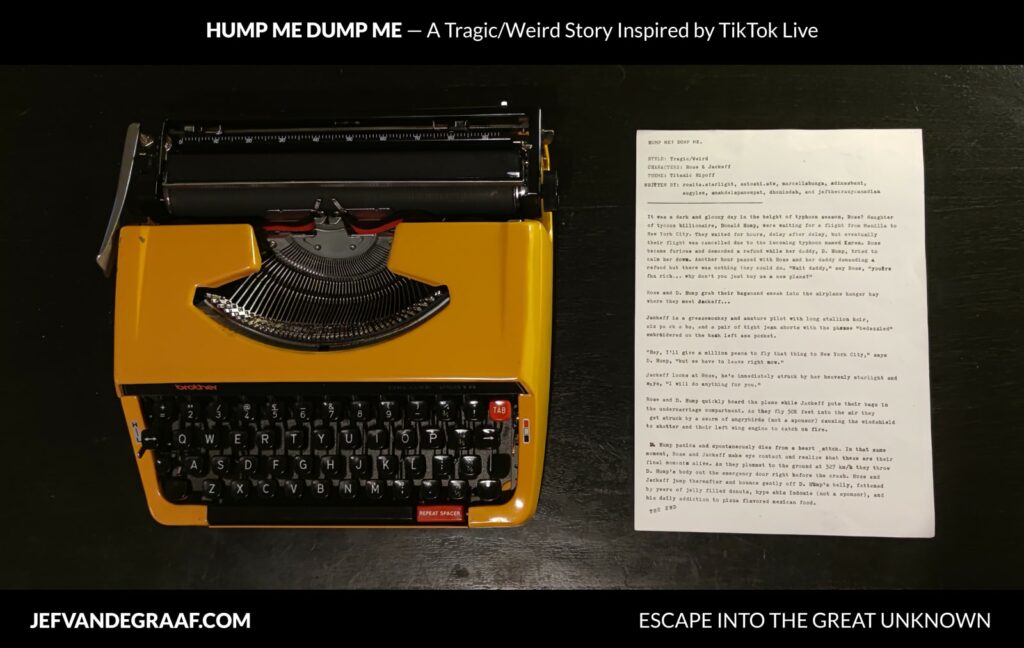 ---
WANT TO SUPPORT JEF?
SEND SOME OR A LOT OF MONEY TO JEF SO HE CAN… BUY MORE COFFEE, UPGRADE HIS INTERNET, AND KEEP THIS BLOG/HIS TIKTOK ALIVE!
---