Do you ever feel lost or overwhelmed with feelings of confusion? Are you struggling with an internal conflict that makes important decisions nearly impossible to do? Perhaps a better understanding of the ego can help unlock a better approach to dealing with your reality.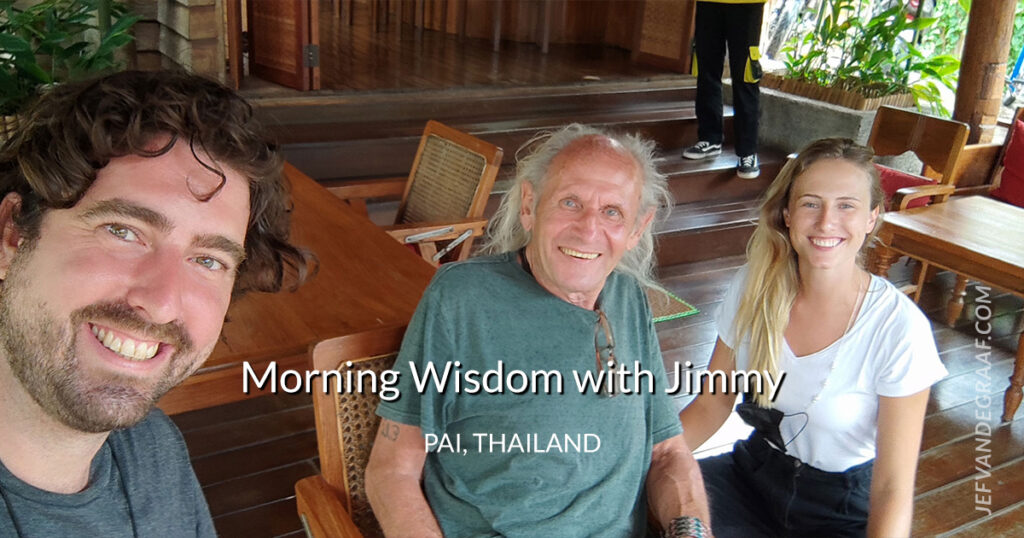 Introduction
For the past year, I was conflicted because all my work, travel, and life plans were completely derailed by the global pandemic.
My original plan was to live in Chiang Mai for a total of 4 to 6 months while taking short trips to explore Laos, Cambodia, Nepal, and Sri Lanka. While I was able to double down on my copywriting business and grow my revenue to 5-figures per month, Thailand was not where I wanted to be for this long.
During my final month in Thailand, I went on a motorcycle tour of Mae Hong Son with my friend, Annemette Mohl. Our adventure started in Pai and I decided to use this opportunity to try magic mushrooms to explore the inner workings of my mind.
Magic mushrooms — or more specifically, psilocybin, the chemical that gives shrooms their "kick" — are known to alter consciousness and dissolve the ego. In a new study on the effects of psilocybin, people were observed to experience higher emotional activity and lower activity in the region of our brain that controls our sense of self.1
In other words, magic mushrooms have the potential to provide an emotional release while creating a new perspective on how we see and believe in ourselves.
The beginning of my mushroom trip created a buzzing sensation inside as the outside world started to transform into a wild new universe. Strange faces started to appear in the leaves and voices began calling to me from the trees. By the second half of my trip, I went inside to lie down and focus my mind on some problems I was carrying inside, such as:
My tendency to start and stop more than one project at a time
My occasional explosions of emotions which interfere with making critical decisions
My battle with depression due to an imbalance between solitude and isolation
Right now, I'm still writing those experiences and will share them with you shortly. You can subscribe to my email list if you want to read about those three struggles when I get them published.
Meeting Jimmy on the morning after my 'trip'
Waking up the next day after my mushroom trip was a bit weird. It was like meeting myself after a long time away. The discoveries I made were still swirling in my mind but they were disorganized and slowly fading from focus.
I went for breakfast and while waiting for my food I locked eyes for a moment with a blue-eyed wizard-looking man. I was laughing at some joke as he passed and a few moments later, Jimmy introduced himself and asked to join us for breakfast.
For the next hour, Jimmy shared his perspective on living a peaceful. He's enjoyed countless years of happiness alongside the natural struggles that come as part of life's package. Our conversation flowed between understanding the ego, how to be more productive, and ways to live in peace.
Importance of understanding the ego
Sigmund Freud described the ego as part of our personality that manages the demands of the id, the superego, and reality. Freud considers the id to be the most important part of our personality that motivates people to satisfy their primal needs — think hunger, thirst, and companionship. In contrast, the superego is the moral compass that forms throughout childhood as a result of our upbringing and social influences.
The ego's job is to find a balance between the id and the superego — which are often competing forces — to ensure our needs fit with the demands of reality.2
Jimmy explained that the ego's main cause to all our discomfort, confusion, and inner turmoil.
Whenever the ego takes control, it tends to make us lose touch with reality. Our ego inflates us with a belief that we're bigger and more powerful than we truly are — resulting in an over-estimation of our actual abilities and self-worth.
Think of a goal you have right now. Your ego will mislead you into believing you can achieve it without effort. The problem is, when reality comes crashing in, you realize your flaws and feel small, insignificant, and useless.
The results?
Overwhelming feelings of inadequacy, anxiety and depression can emerge. This can make decisions harder to make. And, sometimes important relationships are severed or suffer severely.
Here are a few techniques Jimmy revealed to help with understanding the ego and push through your disillusions to enjoy a life of peace.
Learn to acknowledge your ego
The ego is inevitable and trying to suppress it will only make it angrier and more unstable.
Jimmy suggests learning to acknowledge your ego. Let it take the reins and watch where it takes you. However, it is important to be aware that you should not surrender control of your ego over your life.
Instead, think of yourself as an observer. Watch as different thoughts and feelings come to the surface. Focus on those feelings and trace them back to their true origins. Once there, don't be afraid of what you found and be honest with yourself.
Every lie we tell to others started with a lie to ourselves.
Click To Tweet
Honesty and being truthful was the theme of my conversation with Jimmy and I also believe that every lie we tell to others started with a lie to ourselves. Yet, honesty is difficult.
This is what Jimmy had to say about understanding the ego and its connection with honesty:
We may think we are being honest or truthful about how we feel — based on what we see, perceive, and feel — but we may end up saying and doing things because that's what we want people to think or expect of us. We have to remember that we are also constantly confronting other people's egos and the truth that guides their existence.
When was the last time you had an explosive argument with someone? What were you arguing about? Were you trying to prove yourself right or were you up in arms over words that conflicted with your beliefs?
Our egos are usually trying to maintain a sense of honesty that feels true to you. If the ego hears something that conflicts with that truth, they kick in and demand that you bring them life. This is the moment all kinds of strange behaviors emerge. Anger, hate, and violence are a few of the extreme outcomes to a damaged ego that wants to prove itself right.
Sounds scary, right?
Going back to what Jimmy shared earlier, becoming aware of your ego and watching how it works can better prepare you to control your actions and reactions — instead of letting an invisible beast emerge and destroy everything around you.
Ask for permission to speak
Continuing on the topic of relationships and ego, the best way to create a respectful conversation is to ask for permission to speak.
I'm sure you've been to a class throughout your school years when all the kids in the class started screaming at once. There's a reason why our teachers told us to put our hands up to answer questions and express thoughts. In counseling programs, they often use an object that gets passed around, and whoever holds it can speak freely without interruptions or disturbance.
The same concept can be used when interacting with people close to us as well as complete strangers.
Let's say you're having a conversation with your mom on a sensitive topic like eating Brussels sprouts for dinner. You hate Brussels sprouts. But your mom believes they're good for you and important for a balanced diet.
Your instincts — influenced by your ego — may want to say, "Fuck you, mom! You know I hate Brussels sprouts. Why you keep cooking shit that no one wants to eat."
You could instead say, "Hey mom, may I say something for a moment?"
She says yes.
So you say, "Look, I understand that Brussels sprouts might be good for my health but I absolutely hate the taste. Couldn't we have a different vegetable to dinner, like broccoli or a spinach salad?"
Yes, I know. This is a lame example. But the point is not to force the truth of your ego — a truth your ego wants to reinforce — on others without creating an atmosphere that supports a mutually beneficial conversation.
It's okay to agree to disagree because we're human beings with the creative capacity to find solutions to any problem that comes our way. However, when the ego is left unchecked and given free rule over us, it can result in us saying things that destroy or hurt our relationships with people.
Can you start to see why understanding the ego is so freaking important?
Honne vs. tatemae
While Jimmy was sharing his ideas on speaking honestly with people and asking permission to inject our thoughts — and ego — onto others, I was reminded of my experiences in Japan.
In Japan, they have words for ideas that the English language doesn't completely capture.
For example, honne and tatemae
Honne – Refers to a person's true feelings
Tatemae – Refers to the behavior and opinions we display in public
You might consider tatemae as being a white lie or a complete lie, but that's not quite it. As social creatures, we form groups in pursuit of a common goal. That goal could be to share happiness together or earn a means to make money.
When we're in our groups, we are forced to change our behaviors to fit and support the common goals shared by everyone in the group.
Let's say your romantic partner gets a new haircut. They're feeling insecure because it's a ridiculous haircut. They know it. And you know it too. They ask your opinion about their new haircut.
You could say — if you let your ego out, "Babe, you look hideous. What were you thinking?" (honne)
But you will probably say, "Wow, babe! You look great. I love the new look." (tatemae)
In many cases, we use tatemae and tell outright lies in order to avoid exposing the true inward feelings and protect the best interest of those we care about or in our pursuit to achieve the mutual goals of a group. While this can create a conflict with your true inner self, we do this to sustain the ego integrity and self-esteem of other people.
Practice this easy meditation technique
After our talk about relationships, Jimmy asked, "do you meditate, Jef?"
I hesitated for a moment and expressed a white lie, "Uhm, yeah kinda. I mean, it's been on my mind and I try to meditate whenever I can."
I never meditate even though I know how beneficial meditation can be.
Jimmy suggested the following:
Focus on taking three deep breathes. Let your mind be clear and if your ego appears, simply acknowledge its existence and let it pass. After you've completed three deep breaths, do more if you feel the need to do so. You don't need to spend hours in a meditative state. Instead, three deep breaths are the perfect amount to quiet the ego and establish a sense of peace whenever you need it.
Try it for yourself.
Stop reading for a moment and take three deep breathes.
Inhale and fill your lungs expand.
Let go of your thoughts and exhale your first breath.
Now, take your second breath.
Go slowly, there's no rush.
Exhale your second breath and embrace the peaceful emptiness within your mind.
Take your third and final breath in.
Hold on to that feeling for a moment.
Then let it all out.
How do you feel? Can a 30-second break from your day-to-day busyness with 3 deep breaths can help you feel at peace whenever you need it?
I've started using Jimmy's 3-breath technique daily after meeting him and it's been helping me stay focused on my projects and business. However, this next technique is going to accelerate your output, increase your efficiency, and improve your productivity.
Focus on one thing for 7-days
I felt comfortable talking with Jimmy and appreciative of his ideas about the ego. Since I was in a reflective state after my mushroom trip, I decided to share one of the problems I was facing:
My tendency is to start and stop more than one project at a time.
Here's what Jimmy told me to do:
You're gonna get nothing done if you continually start and stop things. One day you'll feel inspired but the next you have no motivation to continue. That's normal. But, imagine if you spent just 1 hour a day, focused on doing one thing every day for 7 consecutive days — how much more could you get done?
I bet you've seen online gurus and programs that push a 30-day challenge or 90-day challenge. For me, trying to wrap my mind around doing the same thing for 30 or 90-days is overwhelming. I often give up within the first few days. Then pick up a new project or passion and either forget about the project completely or try again for a random amount of time thereafter.
Jimmy's 7-day challenge feels far more realistic to start something important — and — to keep the momentum going.
What happens after 7-days?
That's up to you. At the end of the week, you can decide to continue for another 7-days. In fact, you should, especially if you're trying to change a habit or build a business.
Habits have a way of building momentum the more you practice them. They become stronger and the task at hand gets easier. The first 7-days may be the hardest, but as time goes by, you can achieve so much progress by focusing all your time and talent on a 7-day sprint.
By the way, a sprint is a term used by developers that follow the Agile Product Development Methodology or Scrum Framework. Traditionally, it involves 30 days and the product owner will step back and let their teamwork.
Throughout the sprint, the team holds daily meetings to discuss progress and brainstorm solutions to any challenges that come up. During these meetings, the product owner can only observe or answer questions. They cannot request changes during the sprint and only the project manager has the power to interrupt or stop the sprint.
Final thoughts
Meeting Jimmy in Pai, Thailand was a blessing in disguise. Our conversation together resulted in three critical breakthroughs:
Provided a better understanding of the ego
Organized my thoughts from my mushroom trip
Strengthened the connection between myself, my desires, and my actions
I was able to meet Jimmy because of the laughter I shared with a friend while waiting for breakfast.
"Jef, I had a feeling I could come and share a conversation with you because of your big beaming smile. Many people tend to change their expression when they lock eyes on someone. But you seem to open and willing to share the world with those around you."
It's incredible how a single encounter that lasts a small fraction of our entire lifespan can have such a powerful and important impact.
Jimmy — if you're reading this — thanks for sharing your wisdom and helping me put a few pieces to my life's puzzle in order.