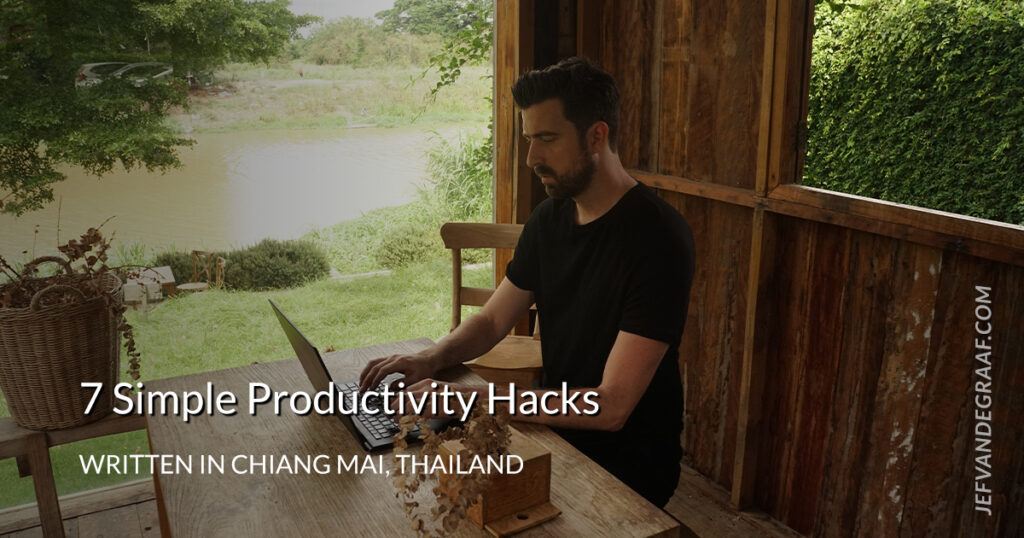 Productivity Hacks
Productivity is a measure of our ability to finish important tasks that lead to profitable or beneficial outcomes. It's often associated with our ability to concentrate, use time efficiently, and innovative software and apps. However, with all the tools and tips that exist, there's no guarantee that one single productivity hack is going to work.
In this article, I'm going to be focusing on only the 7 most simple productivity hacks to reduce the overload of information and choices. The ideas on this list are backed by science and I personally use them to maintain high levels of productivity in my pursuit of personal and professional excellence.
#1. Practice the art of saying "no"
There's a reason why saying "no" is at the top of this list. If you're like me, it's so damn easy to say "yes" to new opportunities, weekend adventures, and side projects. The problem is, each time you say "yes," you end up doing something other than the work that's needed to get things done.
Whenever I say "yes" too often, I end up compromising my ability to finish my work on time and within my quality standards.
Whether I'm taking on additional client work or joining my friends on a weekend hike up a mountain, saying "yes" always compounds the amount of work I have to do later. Then, I feel more pressure and urgency to get the work done and I end up doing it less effectively.
I have learned to force myself to say "no" to almost everything for a week and sometimes a month to maintain high productivity levels.
This way I can stay focused on my client projects, conserve my energy to work on personal projects, feel less pressure from project deadlines, and still have time to relax during the evening and weekends.
#2. Eliminate all distractions
Notifications are the biggest distractions in our lives. Whenever our phone beeps and vibrates, we instinctively want to stop what we do to check it. That's not healthy, and it's destroying our productivity.
According to recent research, it takes an average of 23 minutes and 15 seconds to get ourselves back on task.
Imagine getting into a productive flow, and Facebook decides to remind you that it's time to post something because your audience misses you.
Not only is this going to distract you, but it's also the most meaningless notification ever! F** you Facebook!
Since I started using a smartphone, I immediately muted all notifications and turned off all text notifications from all social media apps. I've stopped caring who likes or comments on my random social media posts and have adopted an "I'll check my notifications on my time" attitude.
#3. Find an accountability partner
The road to personal and professional success can be a lonely journey. Whenever we start to feel alone, it can make us lose focus on the bigger picture and slow our productivity to a halt.
As the old saying goes:
Behind every successful person, there is an equally great person or team.
Having an accountability partner is one way to dramatically keep your productivity high while also increasing your chances of getting more done.
Stephen Newland wrote on the power of accountability:
Having an idea or goal: 10% likely to complete the goal
Consciously deciding that you will do it: 25%
Deciding when you will do it: 40%
Planning how to do it: 50%
Committing to someone that you will do it: 65%
Having a specific accountability appointment with someone you've committed to: 95%
#4. Have one goal to complete per day
There's only so much that can be done in a single day. However, if you can establish one goal to achieve per day, you'll be able to accomplish a lot over the next year.
This is one of my favorite productivity hacks because having a single goal to finish each day gives me a laser-like focus to stay productive, eliminate distractions, and get it down.
And it doesn't really matter what you choose for your goal. It could be:
Going to the gym every day
Writing a new article every day
Waking up at 6 am every day
Creating a helpful social media post every day
Eating a green salad every day
All that matters here is the follow-through, especially when you're trying to create new healthy habits. I like to organize my daily goal in a to-do list with ClickUp to track my progress and success each month. If I miss I day, that's fine, I make sure that the next day it becomes my top priority before anything else.
As time goes by, and you're consistently completing your goal each day, you can begin to expand the list to add another.
#5. Establish a dedicated workspace
Whether you work at home or remotely, your workplace environment has a massive impact on your productivity. Even the slightest distraction, like a TV or a bed in the room, can trigger time-wasting habits that prevent you from getting in the flow of a good day's work.
While I was on the road, I spent a lot of time hacking away at my laptop in cafes. However, I often struggled to find a decent cafe with the right ambiance, and electrical outlets, to work efficiently. Now, I prefer going to co-working spaces to maximize my productivity and creative output (I don't why, but, I just can't get things done at cafes anymore, and it's now impossible to work from home).
If you plan on going to a co-working space, take into consideration some of the influences of physical office environments which can impact your productivity:
Temperature
Water quality
Lighting
Noise
Indoor air quality
Thermal comfort
Layout of individual workspaces
Workplace color schemes
Interior plants
Dust levels
If you're not feeling comfortable where you work, you will find it challenging to stay focused and get things done.
#6. Use the right project management tools
From creating to-do lists to mapping out your project milestones, a project management app is going to help you stay organized and focused on achieving your goals.
ClickUp, Trello, and Asana are all great options for project management apps. I have used them all and I personally recommend ClickUp because of its modern interface, ease-of-use, and compatibility on all my devices.
And, they really live up to their tagline of being one app to replace them all.
When it comes to productivity hacks, mastering one tool for your projects and goals is so much more efficient than jumping around from platform to platform. The last thing you want to do is scatter your time, effort, and attention across too many different places.
#7. Don't forget to take short breaks
The human brain is capable of concentrating for short periods of time using selective sustained attention. This gives you a healthy 10 to 20 minutes of concentration and can be improved if you're working on something enjoyable or intrinsically motivating.
Its also been suggested that in a typical 8-hour workday, we are only productive for 2 hours and 53 minutes.
If you only have 3 hours to get things done, the best way to maximize your productivity is to take short breaks.
Your instinct might be to open Facebook or Instagram, but don't be surprised when a 5-minute break turns into a 50-minute "where the hell did my time go."
To maximize the benefits of your breaks, avoid activities that take a lot of mental energy or consume too much of your attention. Go outside for a short walk, enjoy a coffee or tea in the garden, or have a quick chat with a friend.
Best case scenario, walk away from your work and sit somewhere comfortable so you can zone out for a while. Do some meditation to give your mind a break and try a little yoga to get the blood flowing again.
Do you have any productivity hacks to add to this list? Add them to the comments below.
Productivity is less about what you do with your time. And more about how you run your mind.

Robin Sharma
---