The Batavian blood curse was inspired and co-written by my incredible fans on TikTok. Each week we hang out and brainstorm ideas to create a new story on my typewriter. Come join us for the next Storytime on TikTok Live.
---
co-written by
mikhaharly, marcellabunga, cafa.byjen, rosita.starlight, satoshi.stw, anakdelapanempat, candysiwi, evlyne02, sunitakaur011, cias.note
---
special thanks to
satoshi.stw for extending the publication deadline of this TikTok Live story due to excuses that were very, very believable
---
style:
Horror/Romance
characters:
mikhaharly as Dis
rosita.starlight as Tance
jefthecrazycanadian as Mbah Paijef
theme:
Psychopath b/f + faithless g/f
---
weird words used in this story
Batavia = Capital of the Dutch East Indies (present-day Jakarta, Indonesia)
Dukun = Indonesian shaman or witch doctor
Mbah = Honorific title for elderly men
---
Press play to listen and read!
---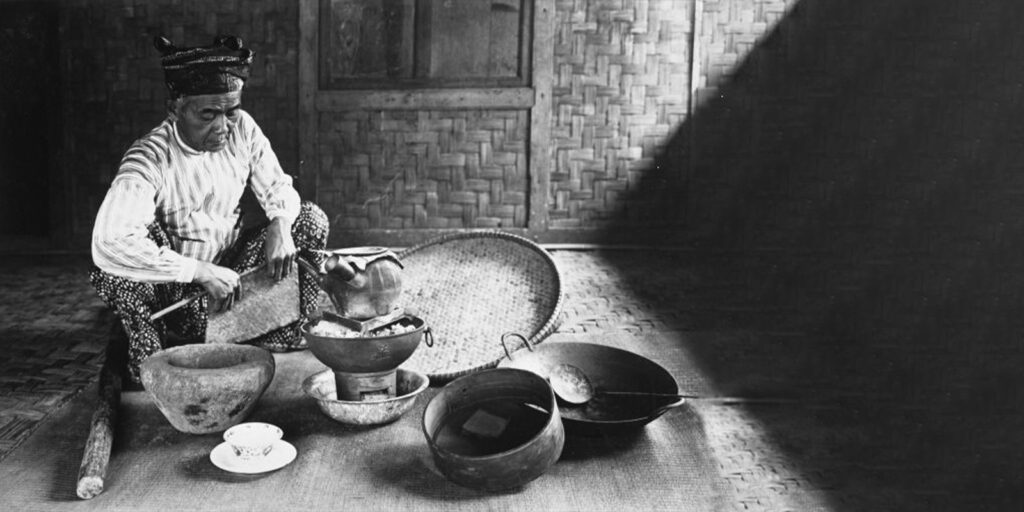 The Batavian Blood Curse
On October 31, 1885, Dis traveled to Batavia to visit his childhood lover, Tance. When Dis arrived in Pesar Senin he dismounted from his horse and saw Tance chatting with a group of young boys from Europe who were on their way to Bali for vacation.
"…come join us this weekend," says a blonde German boy.
Tance blushes and says, "aww, thank you so much… but…"
"She's gonna be busy," replies Dis with anger.
"Wait," says Tance, "it's not what it looks like…"
Dis clenches his fist and gets ready to punch the blonde German boy in the face. He takes a swing but he hits Tance directly on the chin because she jumped between the two boys in an attempt to prevent a fight.
Tance is knocked out cold and the blonde German boy says, "WTF? Bro… that's not cool."
Dis quickly throws Tance's limp body over the back of his horse and rides to the nearest hospital. Upon arrival, the hospital was at full capacity and all doctors were too busy to take a look at Tance's condition.
Dis asked a passing nurse for help and she recommended going to the local dukun, mbah Paijef.
---
"Please, can you help her?"
The dukun, mbah Paijef, was notorious for manipulating and altering the minds of young virgin girls. He looks at Dis and says, "Mmm… yes, of course, I can — but — it will come with a price."
Dis reaches into his pockets and pulls out 3 golds coins and a Chinese chicken made from jade.
"Aku ora butuh iki," mumbles mbah Paijef, "aku mung arep darahme. Yen kowe arep e ngono. Mua ha ha ha ha…"
"How much blood do you need," asks Dis, "and what type? A, AB, B, or O?"
"Hmm… Bring me 5 litres of the finest O blood," says mbah Paijef "You have 3 hours. Now go! Or your lovely girls here won't survive. Mua ha ha ha ha… "
Dis jumps back on his horse and returns to Pesar Senin to hunt down the group of Europeans. He rides straight into the group and knocks out the blonde German boy. Dis pulls out a burlap sack and shoves the blonde German boy inside and carries him away to Ancol, the most famous beach in Batavia.
Dis ties the blonde German boy upsidedown from a coconut tree and…
---
!!! WARNING !!!
THIS PART OF THE STORY IS CENSORED FOR OUR MORE SENSITIVE AUDIENCE — BUT — TO PAINT A PICTURE IN YOUR MIND… DIS IS USING A SHARPENED BAMBOO KNIFE TO SLIT OPEN THE BLONDE GERMAN BOY'S THROAT AND DRAIN 5 LITRES OF BLOOD FROM HIS BODY.
---
It took more than two and a half hours for Dis to catch, kill, and drain the blonde German boy of 5 liters of blood. In a panic, Dis rides back to see the dukun, mbah Paijef, and arrives 4 minutes and 10 seconds late.
Upon Dis' return to the dukun, mbah Paijef is wearing a sarung and smoking a Gudang Garam International cigarette (not a sponsor). In between puffs of smoke, mbah Paijef murmurs a spell that keeps Tance in a trance.
Mbah Paijef smiles and looks at Dis with his crooked yellow teeth and says, "Come, take a seat and have a cigarette."
"No, where's my girl," screams Dis. "And I don't want your dirty cigarette."
"What do you mean," says mbah Paijef, "she's right there, sitting next to you. Mua ha ha ha… If you ever want to see your sweet girl again, you must drink the blood you just retrieved for me."
Dis is brokenhearted but he desperately wants to see his beloved Tance again and drinks all 5 liters of the O blood from the blonde German boy.
For a moment, Dis can see Tance again, but then, he suddenly transforms into the blonde German boy. Tance and the Blonde German boy look at each other, falling madly in love, and live happily ever after in Bali… until this very day.
— THE END OR IS IT?
---
SUPPORT JEF WITH A DONATION
SEND SOME OR A LOT OF MONEY TO JEF SO HE CAN… AFFORD A CUP OF COFFEE, UPGRADE HIS SHITTY INTERNET, AND KEEP STORYTIME ON TIKTOK (A)LIVE!
---