Mt. Hua Shan in Winter
In 2019, I was living near the old city of Xi'an. I heard stories that climbing Mt. Hua Shan is the most dangerous mountain in China. Some even call it Suicide Mountain because people have fallen off the edge to their deaths
If that doesn't scare you, keep reading this quick guide to climbing one of the most beautiful mountains in China.
Preparing for your climb
There are 5 sacred mountains in China: Tai Shan, Huan Shan, Heng Shan (Hunan), Heng Shan (Shanxi), and Song Shan.
Mt Hua Shan is a must-see if you're traveling to Xi'an.
Here's how to prepare yourself for a climb up Mt. Hua Shan in the winter season.
Traveling from Xi'an to Mt. Hua Shan
Hua Shan is located 120 km east of Xi'an and you can get there by bus or bullet train (whichever you prefer).
The bus is very slow and you'd be better off on the bullet train.
You can find the bullet train at Xi'an North Station. Just take Line 2, which is the Red Line, all the way north to Bei Ke Zhan.
Once at Bei Ke Zhan station, you can find Hua Shan North station. It takes about 20 minutes to get there and it only costs 50 RMB or $10 CAD.
---
Don't forget your passport! You'll need it to get a ticket for the bullet train.
---
How high is Mt. Hua Shan?
The highest peak reaches 2154 m in the sky. You can climb from the bottom or take a gondola to the top.
If you choose to hike Mt Hua Shan in winter, there are some food vendors and shops as you follow the route up.
However, not many are open, so I'd recommend bringing enough food and water to sustain yourself.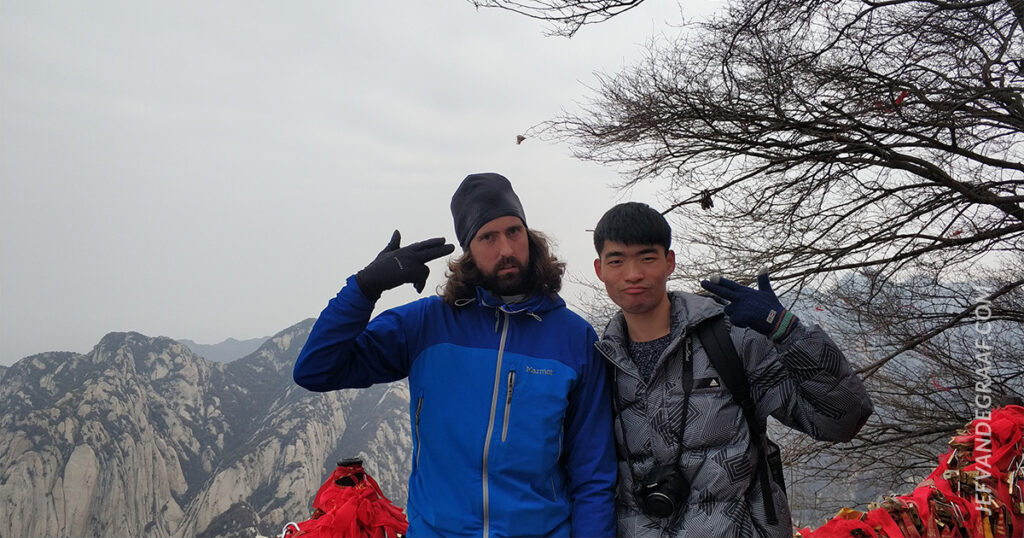 If you want to climb up and down Mt Hua Shan without relying on the cable car, use the times above to plan your trip. It can take about 3 to 5 hours to climb up depending on your fitness and about half that time to get back down.
Staff at the top of the mountain also ask you to leave shortly after sunset.
Since its the winter season, you should definitely be wearing warm clothes, take a thermos with hot water, and find a cute boy or girl to stop and cuddle anytime you get too cold.
On my hike, I suffered from hypothermia when I reached the top. Temperatures dropped fast and it started to snow.
Fortunately, I was able to catch the last cable car back down.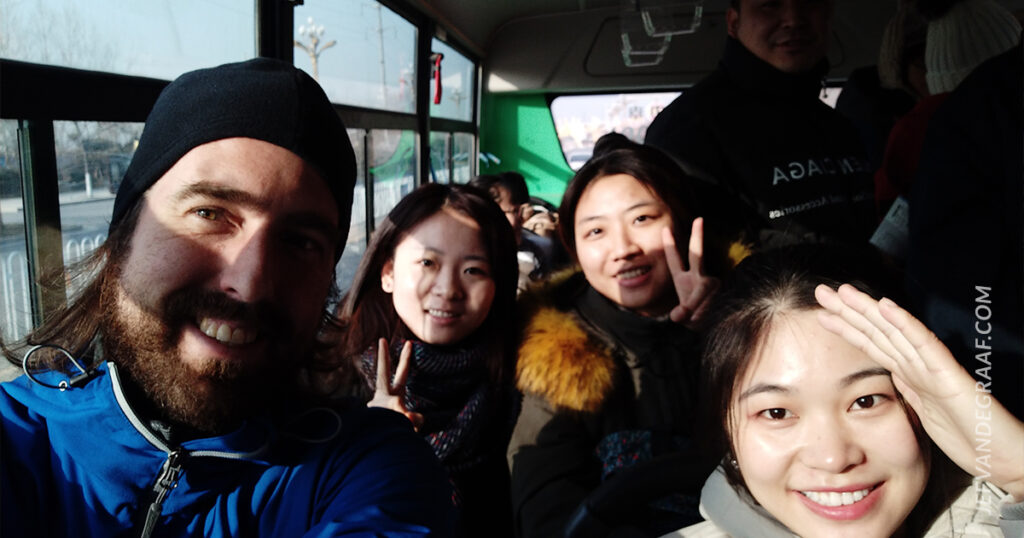 How much does it cost to climb Mt Hua Shan?
Climbing Mt Hua Shan in the offseason makes it much cheaper.
If you're determined to go up Mt Hua Shan in the winter, here's a summary of the prices and the amount I paid for my trip (in bold).
Estimate cost in Winter:
MONEY TAKER

AMOUNT TAKEN
Subway


4 RMB
Bullet Train Ticket



Xi'an North Station to Hua Shan North Station


Speed: Up to 300+ km/h

54.5 RMB
Bus Ticket



Xi'an North Station to Hua Shan North Station



Speed: Slow AF

40 RMB
Shuttle Bus



Hua Shan North Station to Hua Shan Entry

FREE
Taxi



Hua Shan North Station to Hua Shan Entry

20 to 30 RMB*
Entry Ticket to Mt. Hua Shan



High Season (Mar to Dec)


Low Season (Jan to Mar)

180 RMB

100 RMB
Cable Car


120 RMB
Return Bullet Train to Xi'an



Hua Shan North Station to Xi'an Railway Station

54.5 RMB
Return Bus to Xi'an



Hua Shan North Station to Xi'an Railway Station

40 RMB
Snacks**



Chocolate bar with nuts


Bag of peanuts (100g)


Vita Soy Chocolate Flavor

8 RMB

5 RMB

3.5 RMB
2L Bottle of Water***



Purchased in Xi'an


Purchased at Hua Shan

10 RMB

25+ RMB
Refill Water for Bottles



Look for these at train stations

FREE
Package of Tissues



For ass/genital wiping + nose blowing

7 RMB
My Personal Total
352 RMB ($69 CAD)
EXTRA NOTES
* The taxi drivers may try to hustle you for more so, you should keep a crisp 20 in hand. Also, don't budge when they ask for more. Otherwise, take the shuttle bus. It's free and takes only 10 minutes to get to the front entrance where you can buy your ticket.
** You should definitely bring more food than this because I was half starved by the time I reached the halfway point. However, I was lucky enough to meet a Chinese climber who shared 3 slices of bread with me. That saved my life, I swear!
*** You should probably bring about 3 L of water. I had a 1 L Nalgene Bottle but it wasn't enough. However, I highly recommend getting a Nalgene. They're one of the best water bottles. (Want one? CLICK HERE to get one online). Anyway, I ended pu getting a 2 L bottle from a convenient store in Xi'an that fit perfectly in my pack. However, even that wasn't enough…
Enjoy your trip to Mt Hua Shan!