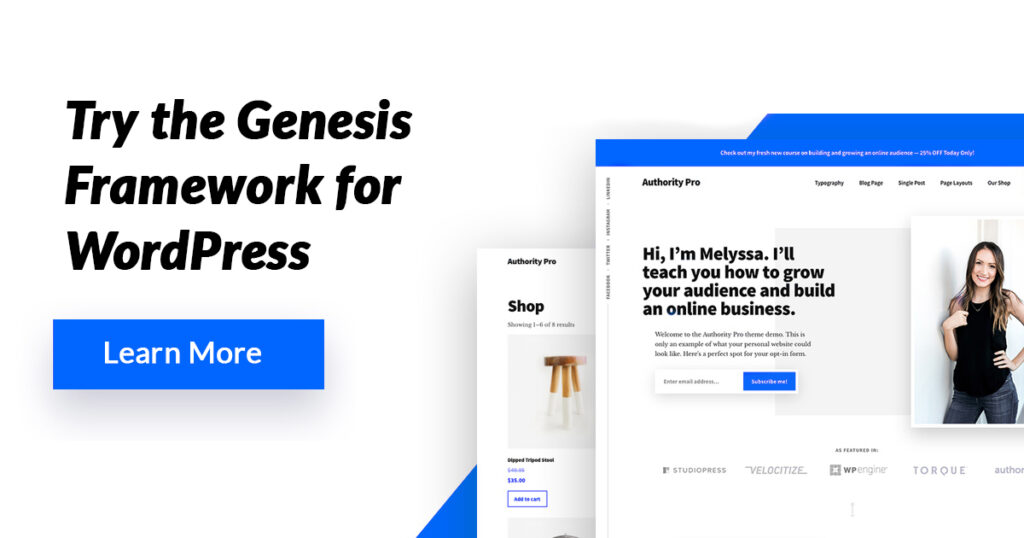 ---
If you've ever wanted a website but felt overwhelmed by the complexity of WordPress, say no more.
The Genesis Framework for WordPress will revolutionize the way you build websites (and it requires minimal experience on your part).
Finally, you can stop using the free WordPress.com with its ugly domain extension, yourwebsitename.wordpress.com. You can also ditch all the crappy web builders that crash and leave you feeling disappointed in your DIY design on platforms like Squarespace, Wix, and Weebly (Ew!).
You deserve a powerful website that helps you to:
Make a blog and monetize it
Build a shop and profit from it
Showcase a service and sell it
Okay, let's end the pep talk and explore why WordPress on the Genesis Framework is going to be your best investment ever.

What is the Genesis Framework for WordPress?
Genesis Framework is a robust theme framework built and maintained by the talented team at StudioPress.
The team that put together the Genesis Framework is actively committed to providing a superior WordPress experience.
Whether you need a complex website for your business or a beautiful way to build a personal brand, Genesis is designed to be easy to use for both beginner and seasoned WordPress developers.
Here are some of the main features of using Genesis Framework:
One-click theme setup. Getting started with the Genesis Framework is as simple as a single click. Simply purchase and upload the framework into WordPress and you're ready to go.
Limitless theme options. Simplify your life with a ready-to-use child theme. All you have to do is unpack all the demo content and install plugins to get a new WordPress website running in just a few days.
Easy-to-design page templates. With Layouts, you gain total control over the look and feel of your website (without the bulky mess of a plugin like Elementor).
Customizable widgets. Showcase important aspects of your website, such as your blog posts and social media, with customizable widgets that fit the style of your website.
Mobile responsive. No matter what device or browser your website is being viewed on, everything will be perfectly optimized and looking beautiful.
For more information on the Genesis Framework by StudioPRess, read the "Beginner's Guide to the Genesis Framework."
Why Use the Genesis Framework for WordPress?
If you've never used WordPress before and felt intimated by its complexity, the Genesis Framework will make you wish you learned WordPress as a baby.
But don't worry, it's never too late to get started.
I discovered the Genesis Framework less than 2 years ago and started building almost all my business projects with it.
I haven't turned back since and here's why.
1. Beautifully coded
Genesis is managed by a smart team of developers who understand the urgency for businesses and bloggers to have a high-quality, high-performing website.
The framework is consistently updated to provide you with the best practices for coding so your website is always optimized.
Best of all, Genesis stays up-to-date with the latest version of WordPress and you can choose to activate auto-updates to keep your website secure at all times.
What does this mean to you? Don't worry if you're not tech-savvy. You don't have to be to use the Genesis Framework on WordPress. Since there's a team of developers behind the framework, you can get answers to any questions quickly so you can stay focused on growing your business.

2. SEO friendly
Speaking of beautiful and clean coding – Genesis is extremely compatible with search engines like Google.
Even if you don't know much about SEO, other WordPress themes (and those gawd-awful website builders) use a lot of bulky code which can slow down your website and impact search engine results.
By using a simple WordPress framework, your pages and blog posts are coded in a way that Google loves. And, when Google loves your website, pages get ranked faster and higher in its search results.
3. Better security
Remember those auto-updates you can activate?
Well, WordPress is constantly changing to stay ahead of the latest threats on the internet and the Genesis framework is no different.
If you can turn on auto-updates, you can trust that your website won't be broken from a poorly coded theme or plugin. This means less stress and fewer inconveniences while running your WordPress website.
Genesis is future-proof when it comes to keeping your website secure.
And since they are coding the best WordPress framework for the world to use (in my opinion, at least) you can keep your website AND business protected with a single click.
4. Easily customizable
If you can dream it, you can probably design it.
Think of the Genesis Framework as a bicycle that comes with the best gears, chains, tires, and accessories to get you moving toward your destination goals faster than ever.
Here are a few of the pre-made styles you can use for your website project:
Authority Pro is great for industry thought leaders with years of experience and acquired wisdom. It's never too late in your journey to share your expertise and build trust with an audience that's craving your knowledge.
---
Do you run an agency or service-related business? Breakthrough Pro helps you demonstrate your work using a modern design that'll impress and convert your future clients.
These are just 2 of the 35+ child themes you can use for your WordPress website.
Still not convinced?
Let's look at the prices to see why the Genesis Framework will be your best investment in 2021.
5. Very affordable
Pricing can make or break a decision when it comes to any kind of personal, professional, or business investment.
However, when you bundle the Genesis framework for WordPress with a child theme it'll be the best investment of your life!
That's no exaggeration.
Genesis Framework = $59.95 USD
Child Themes = ~$74.95 USD
Genesis Framework + Child Theme = $129.95 USD
For just $129.95, you get a professional-looking website, plus:
Unlimited updates, unlimited websites using your new child theme, and unlimited support (perfect for DIY business owners and bloggers)
Create a powerful, highly-functional website using StudioPress-made plugins (i.e., WooCommerce Integrations, Social Media Sharing, and much more)
Easy-to-design web pages using pre-built layouts in Genesis Blocks
SEO and security best practices for a worry-free WordPress website on the Genesis Framework
If you're an agency that wants to offer WordPress design packages to clients, investing $360 per year in a Genesis Pro Subscription is a no-brainer.
Not only can you offer your clients the Genesis Framework, but you'll also have unlimited access to ALL the child themes offered by StudioPress.
Ready to start using the Genesis Framework for WordPress?
By now, you probably realize that I'm a HUGE fan of the Genesis Framework. In fact, this website, jefvandegraaf.com, is built on it!
I may be a professional copywriter by day but developing WordPress websites keeps me up at night.
Seriously, I've spent more than a few sleepless nights hacking at my laptop, learning how to use WordPress.
When I discovered the Genesis Framework, I decided to build ALL my websites with it. Not only was it extremely easy to learn but it also gave me total customization to design a website that fits the style of my personal and business projects.
Are you ready to use the Genesis Framework for WordPress?
Click the button below to start a website for your business or personal project.