If you've ever wanted a better morning routine — because you're tired of staying up late all the time — here are 5 smart habits to make it happen.
---
Do you consider yourself to be a night owl or an early bird?
Morning people (early birds) like wake up early, brew a wicked strong coffee, and operate at peak effiency throughout day light hours.
Night people (night owls) like to sleep in late, wake up at randomly in the afternoon, and burn the midnight oil until creativity is exhausted.
Those are my experiences with being both a night owl and an early bird. I don't have a preference for one or the other, but there are some distinct differences.
Whenever I have a consistent morning routine, I tend to be highly productive, focused on my tasks, and complete more projects.
In contrast, my late-night sessions are filled with strong bursts of creativity followed by a crash and burn that needs a longer recovery time.
Right now, I want to maintain a healthy morning routine and these are the habits I'm creating to do it.
3 Smart Habits for a Healthy Morning Routine
1. Perform a hard reset
Your body is regulated by something called a circadian rhythm.
This is the natural cycle of your mental, physical, and behavioral changes that take place over a 24-hour period.
An easier way to understand this is to think of it as your body's clock.
If you're used to staying up late, a hard reset is going to be necessary. Since you don't have a button to hold for 5 seconds like a smartphone, resetting your body's clock to create a morning routine needs a new set of habits — and that's hard.
Here are a few new habits for you to consider:
Pull an allnighter to start sleeping earlier at night
Shut off all technology in the evenings (Netflix, too)
No more alcohol or caffeine or sugar in the afternoon
Try masturbating or sex to relieve tension and feel more relaxed at bedtime
Do an intense exercise anytime before dinner to exhaust your body
Once you've figured out which new habits help you to break the night owl patterns, move along to step number two.
2. Wake up at the same time
There's a universal principle that applies to being successful, making money, going viral on social media, and getting laid with Tinder: consistency
Consistency is key to creating a healthy morning routine so pick a time to wake up and stick to it every day. Plus waking up at the same time can help you sleep better at night.
If you need a little help, try brainwashing yourself with the book "The 5AM Club" and let me know if it helps in the comments below.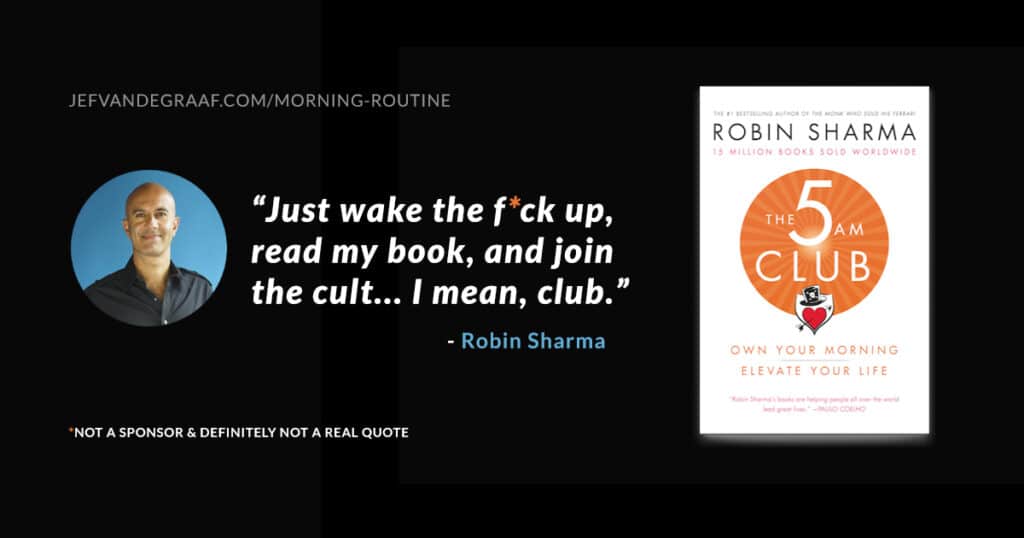 3. Embrace the early morning silence
There's something special about waking up in the morning, sipping on a cup of coffee, and watching the shitty streets of a city come to life.
As you start your new morning routine, the first few hours when you wake up will make or break your desire to continue with it.
So what will you do the moment your eyes open in the morning?
Pick up your phone?
Open social media?
Watch some porn?
Check the stocks?
Read a book?
Downward dog?
If you really don't know what to do, pray as the Muslims do. They're devoted to waking up and praying at the crack of dawn every single day.
Personally, I really respect that.
Tell me your morning routine
As I write in my digital journal today, I've been waking up between 4 am to 6 am to start my day. I check my phone and consume advertisements and posts on LinkedIn to see what others are doing. Then I jump in the shower, cook up an omelet, and head out to my office to work for 6 to 14 hours.
My current goal is to double down on my business and I want to be more consistent with my work habits. Hence why I'm focusing on a morning routine to build a little bit each day.
I'd love to hear your morning routine.
Do you struggle with waking up early? Are you missing late nights until the sun rises? What's the first thing you do when you wake up? Will you ever go back to being a night owl?
Let me know in the comments. I respond to everyone.