How do you conquer the problem of overthinking when all your thoughts and feelings continually destroy your ability to do things?
---
You start a digital journal — that's how!
When I grew up, writing was an outlet for my thoughts and frustrated teenage feelings. Even though I cringe whenever I re-read the stuff I wrote — the process of writing really helped me to work things out.
Pissed at your mum? Write a short story about running away from home, then actually go do it a few years later.
Rejected by your high school crush? Jot down a few words, call it a haiku, then stick it in her locker while she's outside during recess to prove how truly amazing you are…. not.
Started a new business? Get a notebook to scribble every million-dollar idea with your cryptic handwriting so that nobody can understand it but you.
These are the reasons why I rely on writing — aside from my copywriting services to earn a living — to ease my overthinking brain.
However, it's the last one that I want to focus on most but my tendency to overthink keeps getting in the way.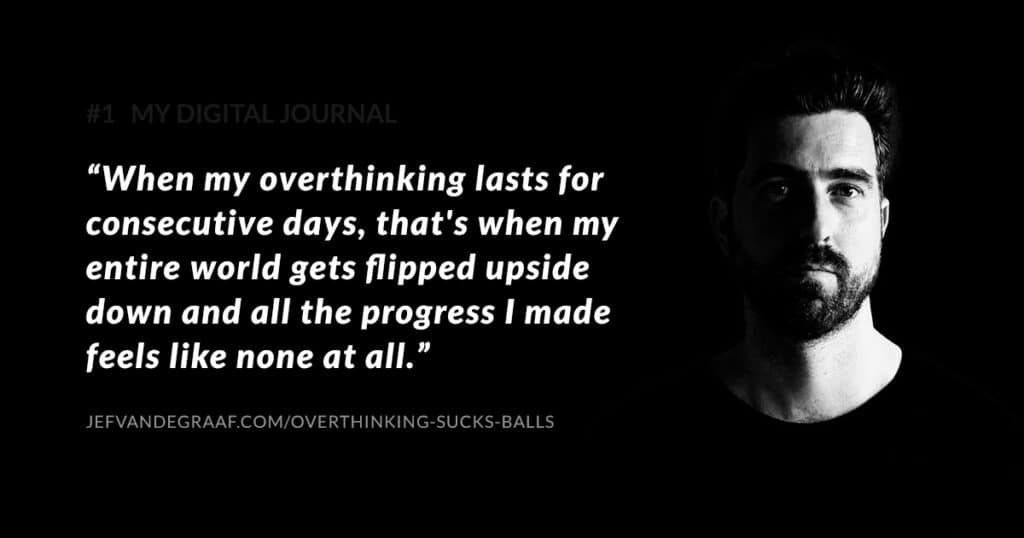 My overthinking causes me to:
Question my ability to do things I'm good at
Start and stop projects without making any progress
Feel a little bit hopeless, anxious, and depressed
So, I'm starting this digital journal with 3 objectives in mind:
Focus on building one project at a time
Move to the next project only after the previous project goes live
Document the journey with a new entry every day
I'll also be religiously following Henry Miller's "rules of writing" with the hope that I don't forget to: keep human — see people, go places, travel somewhere.
Because when my overthinking lasts for consecutive days, that's when my entire world gets flipped upside down and all the progress I made feels like none at all.
Well, now it's time to put an end to overthinking with writing…
…and editing, and publishing, and distribution, and social media shit and…. holy fuck, what have I gotten myself into?